Custom Handmade Magic Wands
"A stick that is used to make magic things happen"
This is the most concise definition of a Magic Wand I've come across. In the realm of witchcraft, this mystical instrument serves as a conduit for channeling energy and intention during spellwork and rituals. Its distinctiveness and personalization cultivate a profound connection between you and your magical tool, thereby amplifying the potency of your spells.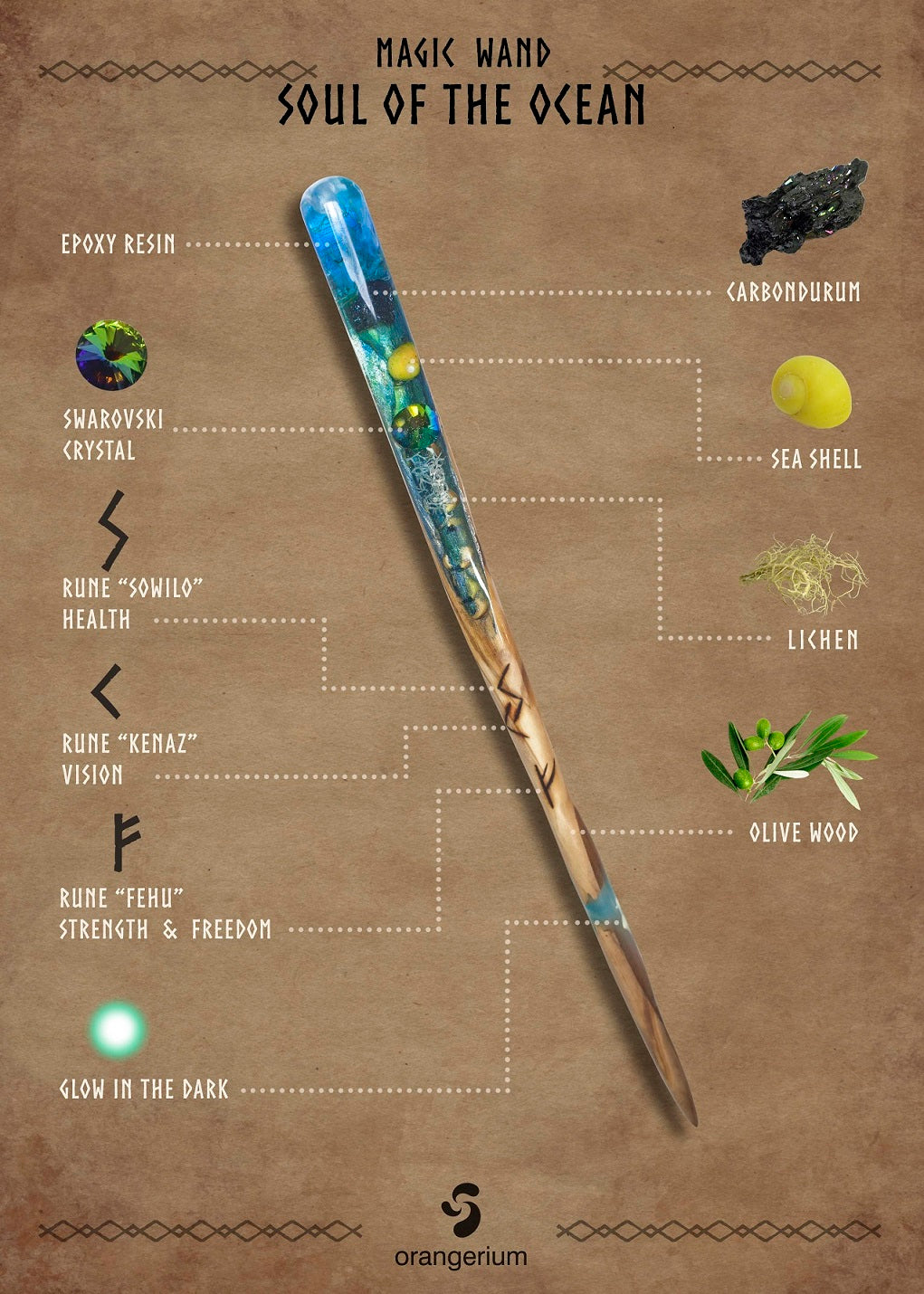 UNIQUENESS
Custom handcrafted magic wands are one-of-a-kind creations tailored to your preferences. You have the freedom to choose the main colour, materials, crystals, flowers, and even zodiac birthstones. This level of personalization ensures that your wand aligns perfectly with your magical intentions, making it uniquely yours. It creates a strong connection between you and your magical instrument enhancing the potency of your spells.
Your Wooden Magic Wand can be personalized with initials, numbers, Elder Futhark runes or a word of your choice. The letters, runes or number will be burned out on the wooden part of the wand.
MAGIC RUNES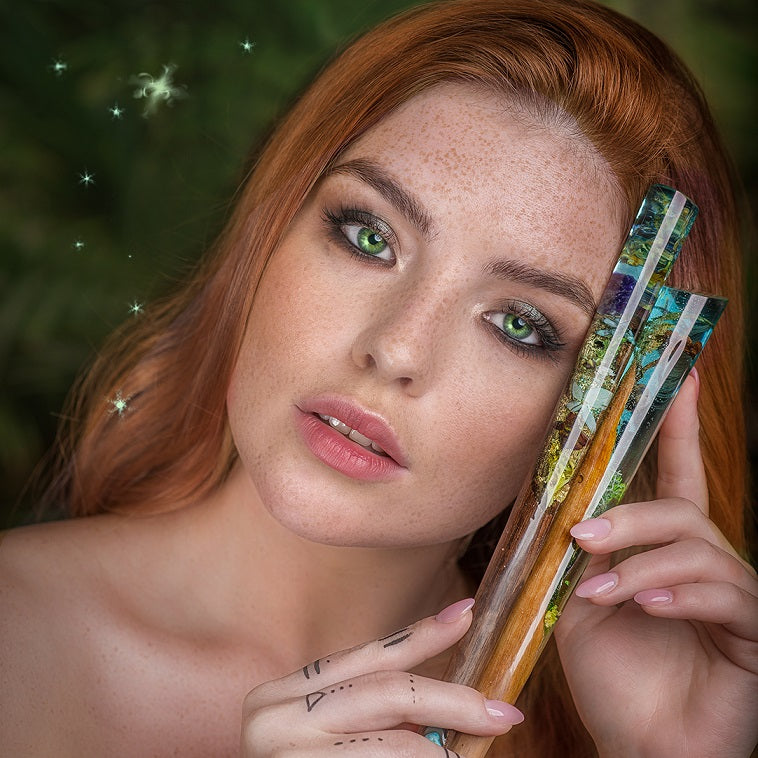 COMMUNICATION AND COLLABORATION
When ordering a custom wooden wand, you engage in a collaborative process with the creator. You can discuss your ideas, preferences, and intentions, allowing for a deeper connection with the final product. This ensures that your wand design embodies your magical vision. Please let us know how you imagine your wand or what inspires you. You can choose main colour, minerals, crystals, flowers, plants, shells, zodiac birth stones etc. You can also leave the choice to us.
Do not hesitate to ask if you wish anything off the list.
MESSAGE US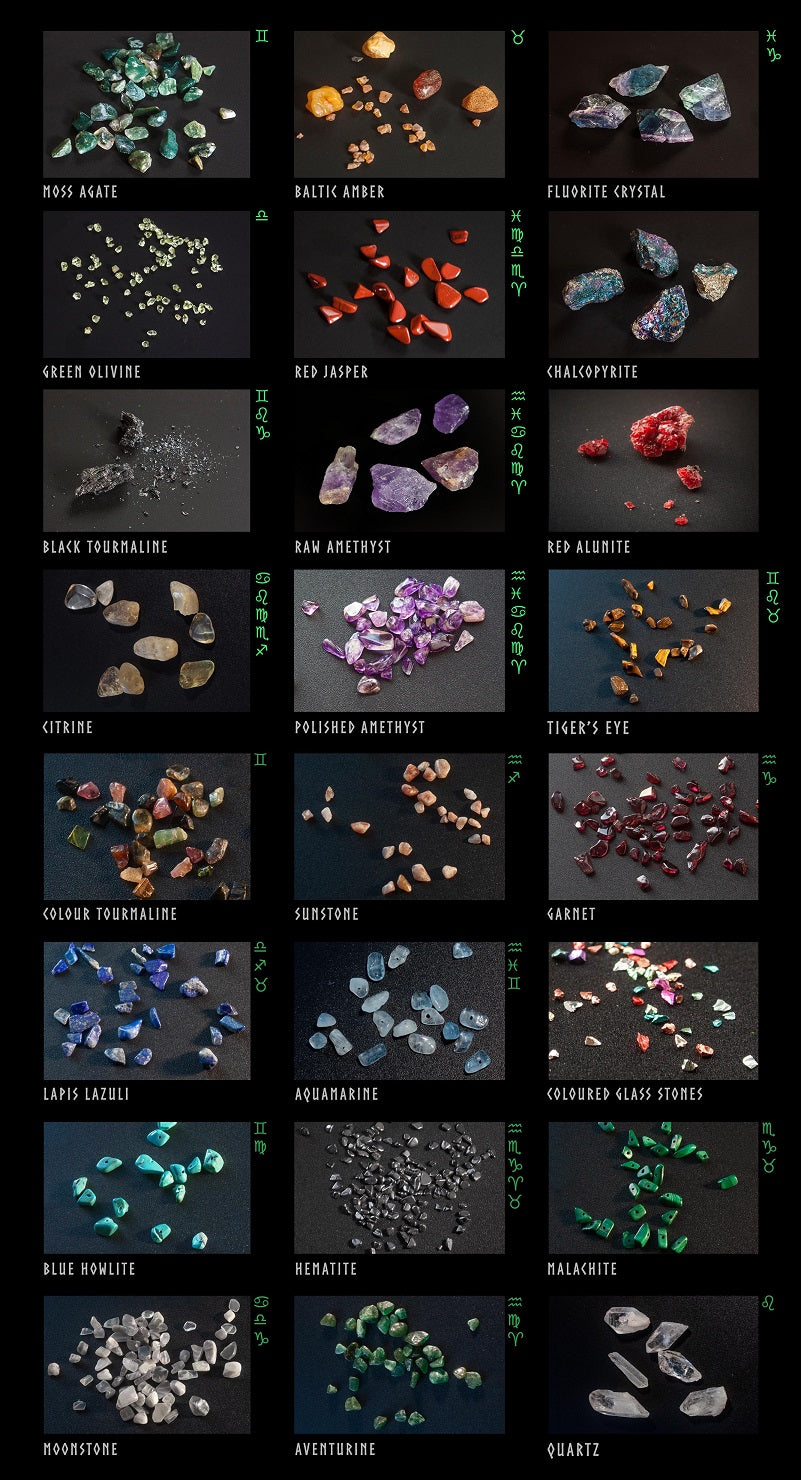 SENTIMENTAL VALUE
Personalization options such as adding initials, numbers, runes, or words make your wand even more meaningful. It can become a sentimental heirloom or a special token of your magical journey.
CUSTOMIZATION OF MATERIALS
The availability of various materials, including floral elements like seaweed, lichen, and hydrangea, as well as other unique components like crystals and feathers, allows you to create a wand that truly reflects your magical style and intentions.
WOOD OPTIONS
We offer two wood types, such as Walnut and Ash. Depending on availability we can also use the wood that resonates with you on a spiritual level or aligns with your magical practice.
CRYSTALS MAGIC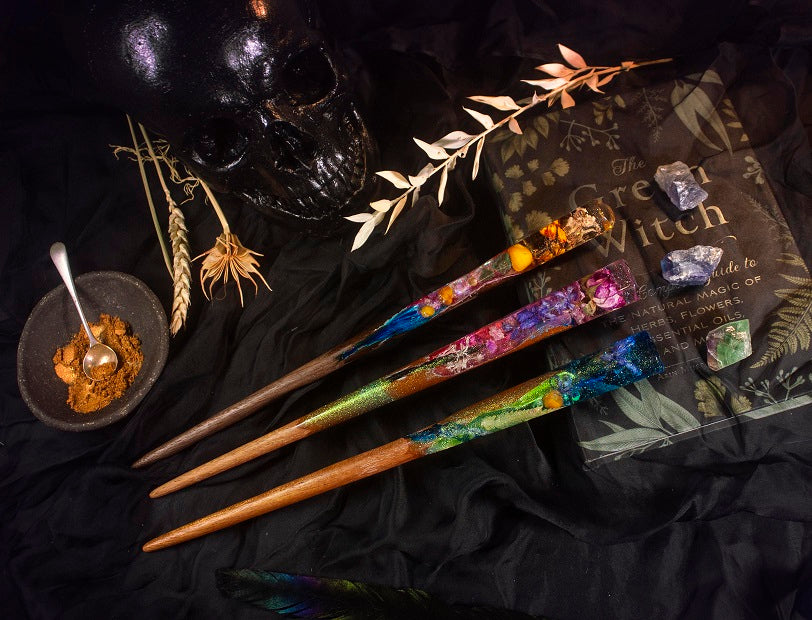 QUALITY AND CRAFTSMANSHIP
All wands are handcrafted with care and attention to detail. The use of high-quality materials such as resin, wood, and various ingredients ensures durability and a beautiful finish. You can trust that your wand will be
a lasting and cherished magical tool.
IDEAL FOR GIFTING
A custom handmade magic wand is the perfect gift for a sorcerer, witch, or wizard. The ability to incorporate zodiac birthstones means you can create a thoughtful and meaningful birthday gift that resonates with astrological sign. It shows that you've put thought and effort into selecting a truly special present.
ZODIAC STONES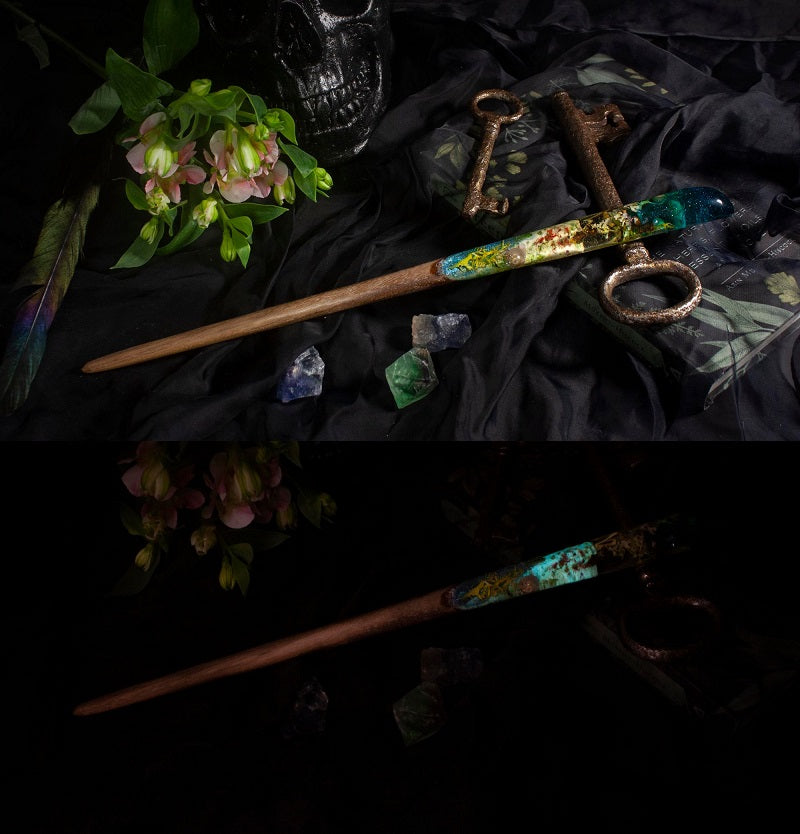 PAYMENT
While Custom orders require upfront payment, this ensures that the maker can procure the necessary materials and dedicate time to design and crafting your wand with care and attention.
TIME
Wand maker needs time for designing and creating your wand. That process takes approx. 4 weeks for custom orders. When your Magic Wand is ready, we will send you a photo. Please let us know if you accept it within 3 days. If we don't hear back from you within this time frame, the wand will be shipped to you.
SHIPPING AND TRACKING
The assurance of free shipping and tracking for custom orders provides peace of mind. You can easily monitor the progress of your wand's journey to your doorstep.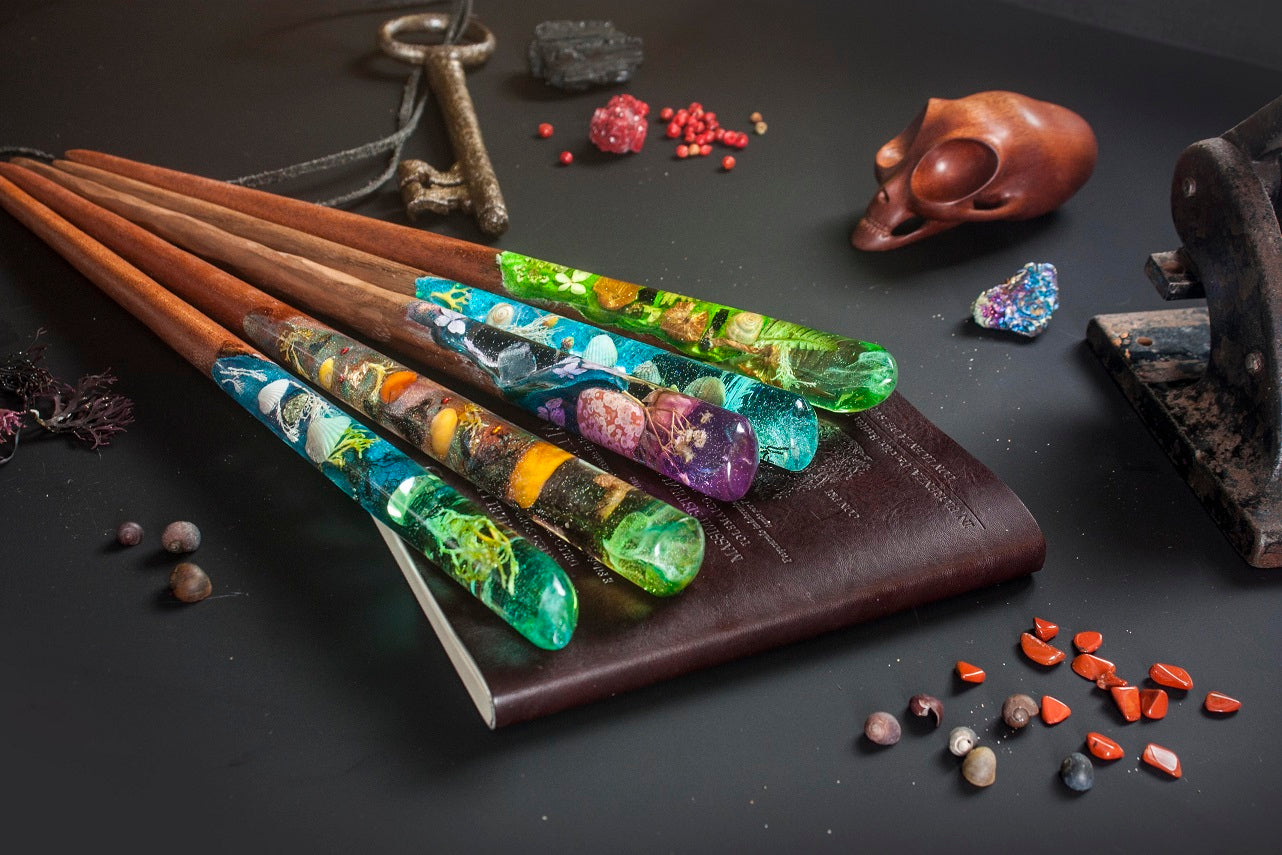 Ordering a custom handcrafted magic wand offers a range of advantages, including personalization, thoughtful gifting options, and a collaborative experience. It allows you to create a truly unique and meaningful magical tool that aligns with your intentions and aesthetics.
PLACE ORDER